Polly's Favorite Recipes

The Mountain Thyme Bed & Breakfast Inn Cookbook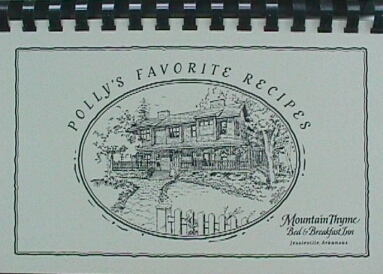 Polly is Rhonda's mom, Mike's mother-in-law, and perhaps most importantly, was our Chef until June 2006 when she decided to retire again.
Polly says she learned to cook when she was 11 years old, but did not enjoy it until she was grown. Since then, cooking has been a favorite hobby and breakfast her favorite meal. Mountain Thyme has been a great excuse to collect and try a lot of new recipes. But only the best ones are kept for our guests.
The first edition of Polly's Favorite Recipes was printed in 1999. The second edition doubled in size and was printed at the end of 2002. When it finally arrived from the printer, we had 75 on backorder from our guests, many of whom already owned the first edition!
Mountain Thyme serves a two course breakfast, as described at Let's Eat. And, of course, we also have afternoon snacks for our guests. We began a tradition of offering our guests a "Romantic Dinner for Two" on Valentine's weekend in 1998. It was so popular that the offering was expanded to include 3 weekends every February. We also do Soup Night on Saturday nights during December and January as part of our "holidays recuperation" program.
So, Polly's Favorite Recipes includes not only many great breakfast recipes, but great snacks, dinner entrees and side dishes, too. View the table of contents.
Thanks to Polly, Mountain Thyme's breakfasts (and Vallentine's Dinners) are renown. If you enjoy good food, Polly's Favorite Recipes is a must to own.
Polly's Favorite Recipes - $15.00 includes shipping and handling (tax will be added for Arkansas mailing address)
Cookbooks may be purchased over the phone with a credit card, or you can mail in a check.
Call Toll Free 1-888-820-5424
---